Nations take pride in praising and promoting their heroes. While some great personalities are loved and adored only by their own countrymen or a specific interest group, there are those rare heroes whose popularity is not confined to such criteria. Thanks to their universal vision, all encompassing solicitude and stellar personal performance, they are loved by one and all, without geographical boundaries.
It does not surprise that the life story of a person, whose teachings enlightens millions from all walks of life and faiths that you could name, has left scores of renowned scholars and analysts baffled as to what enabled him to do what he did in such a short span of time. Especially, transforming the lives of tens of thousands from foreign lands and making them joyfully embrace Sanatana dharma, regardless of their caste, creed, gender, faith or nationality, has intrigued numerous religionists and earned lofty praises from distinguished academicians and political leaders alike from different parts of the world.
If a citizen of India is yet to hear the name of the Indian whose phenomenal success in the fields of social reform, spiritual wisdom, humanitarian services and universal brotherhood- just to name a few- it could be because that saintly gentleman, untouched by any tinge of desire for name, fame and fan club, chose to remain humble and dedicated his entire life to spreading the message of Bhagavad Gita. Even the worldwide society he founded did not carry his own name but that of Lord Krishna's.
The other, and more obvious reason is, his almost mythical personal performance and outstanding service to the world is yet to be known by Indians. The recent release of commemorative silver coins on his 125th birth anniversary is a most welcome step by the Government of India in this direction and the worldwide community of devotees have expressed their wholehearted gratitude towards this gesture.
His Divine Grace Srila A.C. Bhaktivedanta Swami Prabhupada, the founder and acharya of the International Society for Krishna consciousness (ISKCON), certainly does not need introduction. However, it is strongly felt that the people of India need to learn more about this legendary spiritual leader, whose exceptional service to mankind is bound to dominate and decorate the pages of human history in the future.
Just as a gardener is better understood by seeing the garden he cultivates, ISKCON, with its almost magical influence over the world, gives a definitive insight into the glorious life of this exemplary leader who walked on earth just last century.
Acknowledging that it is impossible to describe all of Srila Prabhupada's glories in a few pages, this article, instead of discussing his biography, attempts to showcase his major achievements and why India should not only proudly offer him its highest civilian award, the Bharat Ratna, but also nominate him for other internationally acclaimed awards.
In fact it is long due.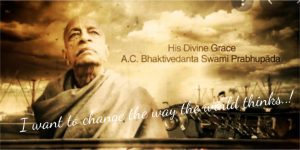 "I want to change the way the world thinks." With this formidable determination, an unflinching faith in the words of his spiritual master, Srila Bhaktisiddhanta Sarasvati Thakur, and profound surrender to the divine will of Lord Krishna, Srila Prabhupada embarked on his mission of changing the world when he was 69 years old, the age when most people are retired and struggling to be content. He did not spend his life in achieving worldly things; he did it in preparation of the mission that he had to carry beyond the Indian ocean as per the prediction made by none other than Sri Chaitanya Mahaprabhu, more than 500 years ago.
Why Bharat Ratna Award for Srila Prabhupada
Bharat Ratna Award, since its introduction in 1954, is considered the highest civilian award of the Republic of India. Through this award the government recognizes exceptional service or performance of the highest order without distinction of race, occupation, position, or gender. Bharat Ratna's Wiki page says: The award was originally limited to achievements in the arts, literature, science, and public services, but the government expanded the criteria to include "any field of human endeavour" in December 2011.
Considering this, and considering not only his astounding personal performance but also his peerless service to humanity at large, one who knows the endless list of A.C. Bhaktivedanta Swami Prabhupada's unparalleled achievements would readily agree that he is the right choice for the Bharat Ratna award.
It is not that the Srila Prabhupada's contribution is unknown to Indian leaders. There have been number of events and letters of honor on record received from various political leaders including two honorable Prime Ministers of India, Sri Lal Bahadur Shastri and Sri Narendra Modi.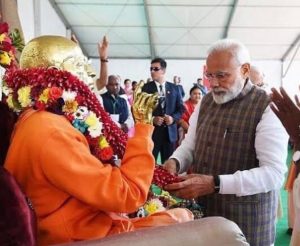 As mentioned, recently the honorable Prime Minister of India, Sri Narendra Modi, released prestigious silver coins in commemoration of his 125's birth anniversary and spoke highly of him. This is commendable and clearly speaks of India's commitment to honoring saintly personalities. Congratulations India!
Leaders in other fields have also, on different occasions, admired Srila Prabhupada's noble work. However, looking at his superhuman personal achievements and vast contribution to the true welfare of the world, he deserves much more.
When numerous social, political and religious leaders around the world have recognized Srila Prabhupada's brilliance and his monumental contribution to the cause of humanity, India can only take pride in offering to this rare son of the soil a befitting and best possible honor, the Bharat Ratna award.
The truth is, not only Bharat Ratna, this rare jewel of the word (Vishva Ratna) deserves Nobel Peace Prize and all other prestigious awards this world can afford. This is by no means an overstatement and you would know why it is so if you read on. Srila Prabhupada did not work exclusively for India or any specific community; he worked for the entire world. This is one reason we see distinguished scholars and acclaimed authors from different countries pouring praises on him.
Before we talk specifics of his achievements, let me address a point that may arise. People tend to eulogize their leaders and overlook their shortcomings. I being a follower of Srila Prabhupada for some 35 good years, one may question my objectivity here. If that is the case, think about this:  how many people can remain full of praise for and loyal to their leader or boss decades after decades and not speak ill of him, even in his absence, especially if the leader or boss does not not pay them anything? I hope the point is made. And I believe I am speaking for millions. Besides, the facts mentioned herein are verifiable.
When Srila Prabhupada founded ISKCON in 1966, in New York city, hardly did anyone know that it would spread across the globe like wildfire, cover practically every country on the planet and influence almost every existing religion in just a matter of years! This in itself is a compelling proof of Srila Prabhupada's superhuman genius.
Thanks to his phenomenal self-confidence and God-gifted prowess, today ISKCON flaunts nearly 900 active centers that include Temples, preaching centers, Govinda's vegetarian restaurants, Goshalas and farm communities across all six continents. Add to it the tens of thousands of Namahattas and Bhakti vriksha centers in villages and cities. It's simply brilliant!
However, what makes Srila Prabhupada's success unique is the hundreds of thousands of committed followers from all walks of life. They are scholars, artists, engineers, doctors, businessmen, servicemen, sportsmen, military men, scientists, lawyers, diplomats, social and political leaders, authors… the list goes on. In ISKCON you find an amazing blend of cultures and appearances- blacks, browns and whites, talls and dwarfs, influentials and nobodies, elites and ordinaries. They are from varied faiths and hail from 100+ countries.
Most significantly, Srila Prabhupada commended whole-hearted and unconditional respect from his followers without flattering and pampering them with feel-good philosophies. Instead he introduced strict ashram rules which were unheard of by his western disciples. He passionately denounced atheistic science and artfully unmasked its fallacies. He exposed the flawed modern education system and boldly condemned unscrupulous forces that promoted immorality, disrespect to women and exploitation of youngsters, all in the name of education and freedom. He often lashed out at godless materialism and introduced beautiful alternatives to it.
However harsh it may appear to some, behind his uncompromising stance was a fatherly heart, full of unconditional compassion. Srila Prabhupada carefully rectified the many wrongs in his followers and gently yet resolutely trained them to give up ill habits. He gave them four regulative principles to follow- no meat eating, no gambling, no intoxication and no illicit sex. He insisted on cleanliness, not only external but also internal, and showed how to honor and protect women and elders, how to develop compassion for the suffering souls, and how to be humble and at the same time fearless while presenting Vedic philosophy. His teachings covered multitudes of social and cultural issues.
It is important to note here that all these people embraced Sanatana dharma voluntarily, without any perks or intimidation. They accepted it because they found purpose of life in following Srila Prabhupada's unadulterated teachings. He instilled in them Vedic values, which included respect for other cultures and religions.
Srila Prabhupada articulated how Krishna consciousness is not just a matter of faith or religion; it is a science and is inherent in all living entities. He taught that by accepting it sincerely one can easily advance in spiritual life and experience inner bliss while at the same time remain faithful to his worldly duties. Today's tens of thousands of congregation members and practicing devotees spread across the world are visible examples of this beautiful principle.
Let me ask a question. Have we ever seen in the history of humankind any person who is loved, revered and loyally followed by people from such a wide variety of social, cultural and religious backgrounds? Absolutely not.
And yet, the irony is, due to false propaganda by vested interest groups, there still are people in India and elsewhere who think that ISKCON is a Western movement. Some couldn't digest that Srila Prabhupada not only initiated foreigners into Vaishnava parampara but also allowed them to become spiritual masters. Some others criticized that he allowed women to worship the Deities. Fortunately, Srila Prabhupada wasn't the one to get deterred by such criticism, for he perfectly knew the conclusion of the Vedas and had a mammoth task to accomplish.
Indians needs to proudly tell the world that ISKCON has its roots in India and the legendary personality who founded it was a Bharatiya. This can be most effectively done by awarding him the Bharat Ratna award. He more than deserves it.
One wonders if his astounding achievement was humanly possible.
The answer is an unambiguous No.
What happened then? Why that charismatic gentleman still continues to change not only lifestyle but the very thought process of millions? His influence was so overwhelming that during his time the then US government officials had approached him seeking advice on tackling drug addiction as those who surrendered to Srila Prabhupada were effortlessly able to overcome that evil.
They wondered why, when churches were left empty, the Hare Krishna temples were getting flooded with devotees. Why did they abandon materialism at young age? All they wanted now was to follow in the footsteps of Srila Prabhupada. He attracted them like no one did. They had lost their hearts to him. Why?
Apart from building a massive international society based on best human values, efficiently managing it and training his disciples to carry on the mission, Srila Prabhupada relentlessly worked on publishing books based on the teachings of Lord Krishna.
Astounding personal achievements
Did you know that no human being has ever accomplished what Srila Prabhupada accomplished in just around 10 years? Take a look at the statistics presented below (source) and calculate how many human years it would take to deliver the same result, even to the most talented person on the planet. It demonstrably shows the miraculous feat of a God-sent person who descended to this world just in order to enlighten the mass and save humanity from imminent dangers looming over it in this iron age.
Srila Prabhupada translated from Sanskrit to English, and wrote extensive purports to some 15,000+ verses of Srimad-Bhagavatam. He produced the the first ten cantos of Srimad Bhagavatam in 30 volumes. Reading one verse with purport daily would take the reader 40+ years to complete.
He translated and wrote purports to 700 verses of Bhagavad-gita. Reading one verse and purport a day would take the reader approximately two years to complete.
He translated and wrote purports to the 17 volumes of Chaitanya-charitamrita (2,170 pages, or 11,555 verses). Reading one verse with purport daily would take the reader 31.6 years to complete. Reading one page daily would take the reader 5.9 years to complete.
He wrote many other books such as the Teachings of Lord Chaitanya, Nectar of Devotion and Sri Ishopanisad
He regularly wrote and published a monthly magazine, Back to Godhead, which at one point was distributed in excess of one million copies per month.
Under his explicit direction and inspiration, thousands of artful illustrations were published in all the above-mentioned books.
Imagine how long it would take to think, write, edit, proofread, illustrate, design, and print even a 100 page book. Here we are talking of hundreds of books. Mind you, Srila Prabhupada was not only writing, he was also translating.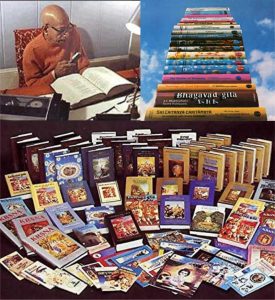 The list continues…
He wrote over 7,000 personal letters to his disciples, published in five volumes of books.
He gave some 2000+ lectures and classes across the world on Srimad-Bhagavatam, compiled into 11 volumes of books, and on Bhagavad-gita, compiled into seven volumes of books.
His 900+ philosophical conversations and verbal question-answers have been compiled into 42 volumes of books.
Almost 500 morning walk conversations are audio/video recorded by his disciples
He traveled around the earth 14 times
He established 108 temples (including Mayapur, Vrindavan, Bombay– with guest houses, Hyderabad temple, New Vrindavan and Gita Nagari farm communities in USA, and Bhaktivedanta Manor in U.K.).
His published some 147 books. Reading one book a month would take 13 years, reading one book every two months would take 25 years of reading, about twice the time it took Prabhupada to write them.
But that's just one part.
Other major achievements
The Bhaktivedanta Book Trust (BBT), founded by Srila Prabhupada in 1972, is the world's largest publisher of ancient and classic Vaishnava texts, epics, and contemporary works on the philosophy, theology, and culture of bhakti-yoga and personalist theology. Its publications include original scriptural works, currently translated into 87 languages, with more languages being added regularly, and books that discuss and explain these traditional texts. BBT also publishes digital audio, video, and multimedia presentations.
Hare Krishna Food for Life, consisting of some 200 projects around the world, adds another feather to Srila Prabhupada's glory. It is a unique mission that feeds 100% vegetarian, delicious Krishna prasad to millions every year. Be it flood relief in the villages of West Bengal or earthquakes in some other parts of the world, Hare Krishna Food For Life distributes free prasad to all, without discrimination. Even during the Covid pandemic ISKCON continued this noble service. Prasad distribution crossed major milestones with Akshaya Patra and Annamrita projects led by ISKCON devotees and friends.
While admiring many scientific discoveries and its service to the mankind, at many instances, Srila Prabhupada came down heavily on atheistic propaganda of modern science and warned how it could eventually lead to catastrophe.
Srila Prabhupada convinced his scientist disciples how Vedic science is more advanced than modern science and why today's scientist community can benefit from Vedic science. ISKCON's scientific wing, Bhaktivedanta Institute (BI), organizes seminars, lectures and conferences with internationally accredited mainstream scientists and spiritual leaders, and strives to enlighten the modern science, which, due to its wrong foundation in godlessness, remains perpetually baffled in its search for origins of the world. BI has its offices in India, Indonesia, Malaysia, Italy, USA, Switzerland and France.
Srila Prabhupada was the first person to introduce Vedic Gurukulas in the west focused exclusively on teaching Vedic scriptures and training children in Vedic lifestyle.
He was also the first person to introduce Sri Jagannath Rath yatras on foreign lands. Thanks to him today 100s of Rathyatras are being held every year though out the world.
Maintaining Goshalas for cow protection is another noble service rendered by Srila Prabhupada. He fiercely advocated cow protection and, based on Vedic scriptures and practical examples, stated that protection of cows is the single-most important principle towards saving the whole world from both moral and spiritual degradation. ISKCOWP, a global initiative for promoting cow protection, presents alternatives to ongoing dietary practices based on slaughter of innocent animals, specifically the cow. It believes that the tenets of cow protection are universal, and presents the philosophy and implementation of compassionate cow care.
The Bhaktivedanta Charity Trust (BSCT), established by Srila Prabhupada in 1977, aims at preserving and renovating the pastime places of Lord Sri Chaitanya Mahaprabhu and works to foster unity among worldwide communities of Krishna devotees.
Mayapur-Vrindavan Trust (MVT) is another display of Srila Prabhupada's wisdom and  foresightedness. MVT was personally established by him in 1972. It is a fund to safeguard the daily worship of the Deities of Their Lordships Sri Sri Radha Krishna and other forms of the Lord worshipped in ISKCON's major temples in India, especially Sri Mayapur, Vrindavan and Mumbai.
Reestablishing Varnashram dharma, the time tested scientific system based not on birthrights but on qualities and activities of a person, is another huge mission initiated by Srila Prabhupada. This system has been grossly misinterpreted and misunderstood by majority of people today.  As mentioned in Bhagavad Gita (4.13), Varna-ashrama system is created by none other than the Supreme Lord Himself for managing a perfect social order. ISKCON has a dedicated ministry tasked with this purpose.
Through its 17 ministries and wings dedicated to various preaching, education, administration, and communication programs, Srila Prabhupada's ISKCON aims to reach every town and village of the world with the message of Sri Chaitanya Mahaprabhu, the form of Lord Sri Krishna who appeared some 500+ years ago.
Struggles that turned into Success
As may be the case with other legendary characters, Srila Prabhupada withstood some severely stressful situations prior to meeting resounding success. Starting from his early days in India to the historic sea voyage by Jaladuta during which he endured two heart attacks, and from the shameful atrocity he battled while constructing the fabulous Juhu (Mumbai) temple to the many other challenges he met, the list of struggles Srila Prabhupada faced and overcame runs long.
Indeed, people have seen ISKCON's gorgeous temples, opulent Deity worship and colorful festivals but hardly have they known how it all started and the amount of sacrifice made to materialize it.
To suitably appraise his monumental success, a quick glance at his arduous struggle, especially during the initial days in America, is in order.
Read Srila Prabhupada's own words recounting his experience after arriving at Boston's Commonwealth Pier on September 17, 1965, after an eventful 35-day sea journey crossing the Indian ocean:
""The immigration officer came in Boston in my boat. He inquired about this. So he asked me, "Sir, Swamiji, how long you want to stay?" So I thought that I have no shelter, I have no money, but I have got the return ticket. So I did not know how long I… (laughs) He asked me, "How long you want to stay?" So I thought, "In these circumstances, I can stay at most two months, because I have no means where to stay, how to eat, and where shall I go? So I may struggle for two months." So I told him: "I may stay at most two months.""
It didn't end there. He had to survive, practically with no money, and that too in a place where money was the only language most people understood. To add to the suffering, his belongings were also stolen. In a letter, written in 1970 to a well wisher he recalls:
"I came here alone in 1965 without any help practically. Where to live, where to sleep, there was no destination. Sometimes some friend's house, sometimes some friend's house, practically loitering on the street. And in this way were passed more than one year."
"I was getting some money by selling my Srimad Bhagavatam, thus I was maintaining myself in New York. After some time, I rented one apartment at number 100 71st Street West, but after a few months, all my things—typewriter, tape recorder, books—were stolen. Then for some time one of my students gave me shelter at Bowery Street"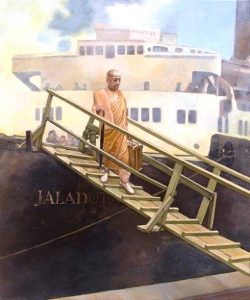 As we can see it was not a red carpet welcome for him nor did the situation change overnight. But he stood his ground firmly and Lord Krishna, fulfilling His promise, kept providing him whatever was necessary for spreading the words of Bhagavad Gita in its purest form, never seen or heard in the western world.
To achieve this, he had to take on many self proclaimed godmen and pseudo spiritualists  promoting mental concoctions in the name of yoga and meditation. His approach was pragmatic yet uncompromising when it came to Vedic principles. This understandably irked a few vested interest groups and establishments but Srila Prabhupada's profound and impregnable arguments prevailed, without exception.
Besides philosophical debates he tackled various other financial, administrative and social challenges but he deferentially yet nonchalantly sailed through. After all, he was empowered by the Supreme Lord and so his victory was ineluctable.
Vasudhaiva Kutumbakam in practice
Srila Prabhupada explained that not only human beings but all those who take birth on earth are children of mother Earth and as such have the right to peacefully live. He condemned slaughterhouses and was against rampant cutting of trees for industrial growth. He encouraged farm communities based on Krishi and Goraksha, i.e. natural agriculture and cow protection.
When the world, being fooled by unscrupulous rulers, is fighting and killing over religions, Srila Prabhupada's truly non-sectarian and scientific teaching stands out in support of humanity.
He taught that the science of God is unchangeable. True science is not based on trials and errors. He stressed that God does not belong to any particular race, faith or nation. Just as a father is equal to all children, the Supreme Lord, as the father of all living entities, is equal to all and all have the right to be happy in His creation and duty to serve Him.
Since God, His transcendental qualities, His inconceivable form, His activities, His abode, His entourage, His mission, His creation, and all such information about Him is best and extensively explained in the Vedic scriptures, Srila Prabhupada based his teachings on Vedic texts like Upanishads and Puranas. mainly Bhagavad Gita, Srimad Bhagavatam, and Sri Chaitanya Charitamrita.
If God is the supreme then He can only be one, and all those who call Him by different names must be worshipping that same Supreme Person. This sublime message is enough to stop warmongering in the name of religion.
Srila Prabhupada's services to humanity didn't stop with his physical departure from this world. Before leaving, he trained his disciples to carry on the mission of spreading Lord Krishna's divine message of universal harmony. This non-sectarian message teaches one how to develop pure love for God. This is the reason people from all backgrounds respect and love Srila Prabhupada from the core of their hearts. The ever-swelling number of devotees and projects in India and abroad is a telling proof of this.
When on one hand the world is running out of sanity, on the other hand, thanks to the Hare Krishna movement, it is going through a visible change. More and more people are taking to Krishna consciousness every day. it is in the interest of all nations to recognize and publicly endorse the noble work carried out by Hare Krishna devotees under the expert guidance of Srila Prabhupada. This is the need of the day and whoever does it contributes to a better life on earth. It is rightly said by Srila Prabhupada himself that the history will thank ISKCON for saving the world.
While no worldly award can adequately appreciate such an extraordinary character, Bharat Ratna award will certainly serve as a token of gratitude to the acharya, a rare spiritual preceptor, who took Sanatana dharma and the pure message of Bhagavad Gita to every corner of the world.
Bharat Ratna award to Srila A.C. Bhaktivedanta Swami Prabhupada will deliver a loud and clear message to the world that India sincerely values universal harmony at all fronts, including religions.
The acharya, whose unceasing compassion for the suffering souls saw no geographical boundaries, whose divinely pure intentions lifted millions out of ignorance, who unpretentiously presented himself as a humble servant of God, who revitalized the waning values of eternal Vedic wisdom on earth, and who, to the sheer delight of all his followers, continues to enlighten them through his infallible teachings, will surely continue to lovingly reign over uncountable hearts worldwide for millenniums to come.
Thanks to Srila Prabhupada, the moon among stars, today Mother Earth jubilantly vibrates with the joyous chants of "Hare Krishna".
Jay Srila Prabhupada!