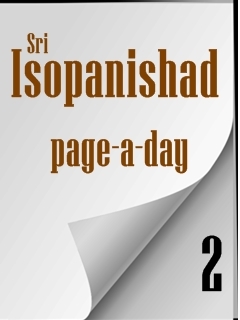 This is the Vedic principle, and we accept it. Vedic principles are accepted as axiomatic truth, for there cannot be any mistake. That is acceptance. For instance, in India cow dung is accepted as pure, and yet cow dung is the stool of an animal. In one place you'll find the Vedic injunction that if you touch stool, you have to take a bath immediately. But in another place it is said that the stool of a cow is pure. If you smear cow dung in an impure place, that place becomes pure. With our ordinary sense we can argue, "This is contradictory." Actually, it is contradictory from the ordinary point of view, but it is not false. It is fact. In Calcutta, a very prominent scientist and doctor analyzed cow dung and found that it contains all antiseptic properties.
In India if one person tells another, "You must do this," the other party may say, "What do you mean? Is this a Vedic injunction, that I have to follow you without any argument?" Vedic injunctions cannot be interpreted. But ultimately, if you carefully study why these injunctions are there, you will find that they are all correct.
The Vedas are not compilations of human knowledge. Vedic knowledge comes from the spiritual world, from Lord Krishna. Another name for the Vedas is sruti. Sruti refers to that knowledge which is acquired by hearing. It is not experimental knowledge. Sruti is considered to be like a mother. We take so much knowledge from our mother. For example, if you want to know who your father is, who can answer you? Your mother. If the mother says, "Here is your father," you have to accept it. It is not possible to experiment to find out whether he is your father. Similarly, if you want to know something beyond your experience, beyond your experimental knowledge, beyond the activities of the senses, then you have to accept the Vedas. There is no question of experimenting. It has already been experimented. It is already settled. The version of the mother, for instance, has to be accepted as truth. There is no other way.
The Vedas are considered to be the mother, and Brahma is called the grandfather, the forefather, because he was the first to be instructed in the Vedic knowledge. In the beginning the first living creature was Brahma. He received this Vedic knowledge and imparted it to Narada and other disciples and sons, and they also distributed it to their disciples. In this way, the Vedic knowledge comes down by disciplic succession. It is also confirmed in the Bhagavad-gita that Vedic knowledge is understood in this way. If you make experimental endeavor, you come to the same conclusion, but just to save time you should accept. If you want to know who your father is and if you accept your mother as the authority, then whatever she says can be accepted without argument. There are three kinds of evidence: pratyaksha, anumana and sabda. Pratyaksha means "direct evidence." Direct evidence is not very good because our senses are not perfect. We are seeing the sun daily, and it appears to us just like a small disc, but it is actually far, far larger than many planets. Of what value is this seeing? Therefore we have to read books; then we can understand about the sun. So direct experience is not perfect. Then there is anumana, inductive knowledge: "It may be like this"—hypothesis. For instance, Darwin's theory says it may be like this, it may be like that. But that is not science. That is a suggestion, and it is also not perfect. But if you receive the knowledge from the authoritative sources, that is perfect. If you receive a program guide from the radio station authorities, you accept it. You don't deny it; you don't have to make an experiment, because it is received from the authoritative sources.
Vedic knowledge is called sabda-pramana. Another name is sruti. Sruti means that this knowledge has to be received simply by aural reception. The Vedas instruct that in order to understand transcendental knowledge, we have to hear from the authority. Transcendental knowledge is knowledge from beyond this universe. Within this universe is material knowledge, and beyond this universe is transcendental knowledge. We cannot even go to the end of the universe, so how can we go to the spiritual world? Thus to acquire full knowledge is impossible.
(Continue to the next page…)
Source: Sri Isopanishad – Introduction by Srila A.C. Bhaktivedanta Swami Prabhupada. Copyright BBT International http://www.vedabase.com/en/iso
(Delivered as a lecture by His Divine Grace A.C. Bhaktivedanta Swami Prabhupada on October 6, 1969, at Conway Hall, London, England.)