His Hoiness Bhakti Charu Swami, a prominent spiritual master and governing body commissioner of ISKCON, and a very dear direct disciple of ISKCON's founder achayra Srila A.C. Bhaktivedanta Swami Prabhupada, left the world today, 4th July 2020, amidst kirtan and constant chanting of the Hare Krishna maha-mantra across the world.
The news of his departure came as a big and extremely painful jolt to the tens thousands of devotees around the world who were praying fervently for his recovery. In a glorious tribute, His Holiness Jayapataka Swami said that Srila Bhakti Charu Swami maharaj served Srila Prabhupada by his words, thoughts and deeds. His Holiness added that we were praying intensely and tried our best by providing the best possible medical treatment to HH Bhakti Charu maharaj hoping he could stay longer with us but Lord Krishna and Srila Prabhupada called him for some other service. He described it as a great personal loss and a big loss for ISKCON. Other senior leaders of the movement present in Sri Mayapur also spoke about the departed divine soul and his unforgettable contribution to the world. Many online programs and virtual gatherings are being organized for the next few days.
Announcing the heart-rending news the Executive Committee of ISKCON's Governing Body Commission said:
"It is with overwhelming heartache that we announce to you the departure of our beloved godbrother and a dearmost servant of Srila Prabhupada, His Holiness Bhakti Charu Swami.
From his earliest days as a young devotee, Maharaja had the extraordinary privilege of serving as one of Srila Prabhupada's confidential, personal servants. And ever since, His Holiness Bhakti Charu Maharaja's life has been an offering of love at the lotus feet of his spiritual master.
Indeed, there was not a service that Maharaja did not perform for the pleasure of Srila Prabhupada. As instructed in their very first meeting, Maharaja translated every one of Srila Prabhupada's written works into Bengali, the language of Srila Prabhupada's own birth. To fulfill this cherished order, Maharaja took on years of austerity, rising at midnight to carefully translate his spiritual master's divine words.
Maharaja served as one of the most active members of the GBC Body, he was an initiating spiritual master with many dedicated disciples all over the world, and he shared Krishna consciousness in every segment of society from simple Bangladeshi villages to the British parliament. Maharaja encouraged and advised ISKCON leaders in management and spiritual topics, he saved more than one ISKCON project in times of despair, and did his utmost to contribute to the welfare of the most vulnerable members of society.
One of Maharaja's unique contributions was the "Abhay Charan" television series that brought the glorious life and pastimes of Srila Prabhupada to the world on an unprecedented scale. And most recently, Maharaja again heightened the glory of his spiritual master by building a marvelous temple and devotee community in the holy city of Ujjain.
Maharaja's voice, sweeter than honey, has immortalised many of our acaryas' prayers, and most famously, Maharaja's heartfelt rendition of the gopis' song of seperation from the 10th Canto of Srimad Bhagavatam rings in our ears.
Despite his position and many qualifications, both material and spiritual, Maharaja was a humble and loving gentleman who took pleasure in serving devotees. Indeed, one of Maharaja's favorite pastimes was to personally cook and serve prasadam for the devotees.
As in all aspects of his service and gentle and cultured nature, Maharaja's cooking was highly refined and infused with bhakti.
There are no words that provide solace when facing separation from such a glorious Vaisnava, but we can take some comfort in the fact that His Holiness Bhakti Charu Maharaja lived constantly in meditation on how to serve Srila Prabhupada and his mission. Undoubtedly, he now continues that service under the direction of His Divine Grace.
Let us offer true homage to Maharaja by continuing his legacy of service in our own lives. Let us commit ourselves, mind, body, and soul, to the service of Srila Prabhupada, following in the footsteps of his beloved servant, His Holiness Bhakti Charu Swami.
One of Maharaja's most cherished instructions from His Divine Grace was, "Your love for me will be show by how you cooperate together after I am gone." Now, in Maharaja's absence, we are reminded to take that instruction to heart and reaffirm our dedication to ISKCON, and to each other
We also commit ourselves, as Maharaja's servants, to assist and care for his loving disciples in his absence. It was very important to Maharaja that we operate as one family in Srila Prabhupada's service and we remind you today that although Maharaja is no longer physically present, you are protected by the shelter of many devotees who are ready to offer you the support you may require at this difficult time and in the future.
As Maharaja often glorified Srila Prabhupada with the beautiful words of the gopis, let us also remember Maharaja as that most munificent Vaisnava who will eternally inspire the followers of Srila Prabhupada to share the glories of Lord Krishna:
tava kathamrtam tapta-jivanam kavibhir iditam kalmasapaham
sravana-mangalam srimad atatam bhuvi grnanti ye bhuri-da janah
"The nectar of Your words and the descriptions of Your activities are the life and soul of those suffering in this material world. These narrations, transmitted by learned sages, eradicate one's sinful reactions and bestow good fortune upon whoever hears them. These narrations are broadcast all over the world and are filled with spiritual power. Certainly those who spread the message of Godhead are most munificent.""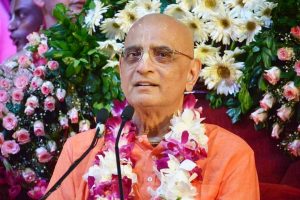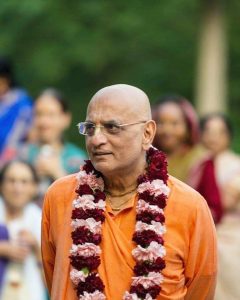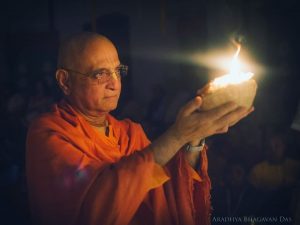 The following information about His Holiness Bhakti Charu is extracted from his Wiki page.
His Holiness Bhakti Charu Swami maharaj was born in 1945 into an aristocratic Bengali family, spend early childhood in urban Kolkata, and went to Germany 1970 for further education. Soon he came in touch with "The Nectar of Devotion", a book by Srila Prabhupada, and realized that he had found his spiritual master. Bhakti Charu Swami joined the International Society for Krishna Consciousness(ISKCON) in Mayapur, West Bengal, India.
His first meeting with Srila Prabhupada finally took place in January 1977 during the Maha Kumbha Mela at Prayagraj. On his first meeting only, Srila Prabhupada gave him the following instructions: to translate all of his books into Bengali and become his Secretary for Indian Affairs. He was given first and second initiation in Sridham Mayapur during the Gaura Purnima festival in March 1977. Shortly after, during the Snana Yatra festival in Vrindavan, Srila Prabhupada awarded him the renounced order of sannyasa. He later then served as the GBC (Governing Body Commissioner) Chairman in 1989 and later in 2017. Maharaja continued to translate many of Srila Prabhupada's books into Bengali to its completion in 1996, which is the centennial anniversary of Srila Prabhupada's appearance.
Thereafter, he was involved in creating, writing, producing and directing the epic biographical and well known video series, Abhay Charan. With over 100 episodes and broadcast on Indian National Television, reaching more than 4 million viewers in a short span of few months, the series beautifully and chronologically portrays Srila Prabhupada's whole life and achievements.
He further went on to develop the ISKCON project in Ujjain, Madhya Pradesh, India. This is the place where Lord Sri Krishna, along with His brother Balarama and friend Sudama received Their education from Maharishi Sandipani. Under Maharaj's leadership there, an extraordinary marble temple was inaugurated in less than 10 months in February 2006. As a resident GBC of that area, he continues to oversee the development of the project and the preaching programs in Madhya Pradesh and surrounding areas.
The Ujjain ISKCON temple under the direction of Bhakti Charu Swami feeds more than 23,000 school children per day. To facilitate this feeding project, Bhakti Charu Swami built a 6,000 sq. ft. (560 m2) industrial kitchen. He was the Chairman of Annamrita Foundation, ISKCON's midday meals programme, which feeds 1.7 million children across India.
He has also established a department in Ujjain which produces exquisitely decorated altars, murtis and deity dresses for devotees and ISKCON temples all over the world.
In 2013, HH Bhakti Charu Swami pioneered the development of a new ISKCON temple in Panihati (West Bengal) – a very holy place in the Gaudiya Vaishnava tradition, the home of Raghava Pandit and the place of Lord Nityananda's Chipped Rice (Chida Dahi) Festival.
In 2014, he established Arogya Niketan, a traditional and authentic Ayurvedic health clinic in Ujjain. In the same year, he joined Artha Forum and began delivering keynote speeches globally on spirituality to large audiences of business leaders. Srila Bhakti Charu Swami on many occasions displayed his mastery and expertise in the field of management and leadership, community building, and strengthening relationships. He delivered number of presentations as a keynote speaker at top management and engineering institutes of the world (MIT Boston, IIM's and IITs). HH Bhakti Charu Swami founded and established I-Foundation, a leading Hindu charity organisation in the United Kingdom.
In 2016, His Holiness Bhakti Charu Swami launched a beautiful memoir, "Ocean of Mercy – A Search Fulfilled", where he recollects his intimate interactions with Srila Prabhupada. This book describes how he developed a genuine love and dedication for Srila Prabhupada who gave him a life of Krishna Bhakti, and thus revealed to him, to be truly an "ocean of mercy."
On,17 November 2016, Institute of International Social Development –New York, an NGO in Special Consultative Status with the Economic and Social Council (ECOSOC) of the United Nations awarded an accolade to HH Bhakti Charu Swami, as a display of their gratitude for all the support he gave them on behalf of ISKCON, in spreading the message of spirituality for the World Peace and Understanding between Nations and Civilizations.
He started a project called 'Veda Foundation and Cow Sanctuary' which is situated in Deland, Florida. The mission there is to propagate the Vedic culture and wisdom more simply in the West through setting in motion farm communities and visual media.
Srila Bhakti Charu Swami constantly inspired and guided the communities in areas such as Sridham Mayapur, Bangladesh, Kolkata, Ujjain, Orissa, Seattle and Deland Florida. He travelled and preached extensively across India, USA, UK, Western Europe, South Africa, UAE, South-East Asia and Australia for the past 42 years and continues to be an inspirer and guide to thousands of people whose lives have been transformed by his teachings and instructions.
He writes in his book "Ocean of Mercy"
"Those 2 months have turned into forty years, but they have flown by, and by Srila Prabhupada's causeless mercy, my life has found its perfection. My realization is that I am an eternal part and parcel of Krishna and that my life's goal is to develop my loving relationship with Him is all due to the mercy of Srila Prabhupada, who took me by the hand and led me to that relationship. I know that I have found the true path to perfection, and that achieving success is only a matter of continuously moving forward without deviation."
An exemplary servant of his spiritual master, a constant inspiration to thousands of devotees around the world, and a pure devotee of Lord Krishna, Srila Bhakti Charu Swami maharaj will continue to reside in the hearts of all his followers and lovers for generations to come. May he forgive the offences we may have committed at his lotus feet and may he bless us for devotion to Sri Sri Guru and Gauranga.
We will dearly miss you, maharaj!
Srila Bhakti Charu Swami maharaj ki jay! Srlla Prabhupada ki jay! Hare Krishna