This morning Dr Sarin, the director of ILBS hospital at New Delhi, who is personally overseeing His Holiness Jayapataka Swami's health, came to Swamiji's room and happily informed him that he was being discharged from the hospital.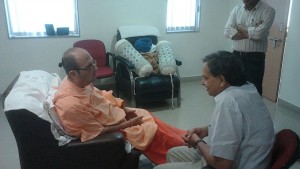 Dr Sarin asked Jayapataka Swami to again visit the hospital after three days so that they can check his health status. Before leaving the hospital Swami ji thanked Dr Sarin and his team for their remarkable service.
His Holiness was taken to a nearby house where he is expected to stay for a few weeks as he needs to periodically visit ILBS for check up as per Dr Sarin's advice.
Devotees around the world who have been praying for His Holiness' recovery were overjoyed by the news. Many of them have already started planning to visit India to meet Jayapataka Swami, who attributes his recovery to the prayers of devotees.