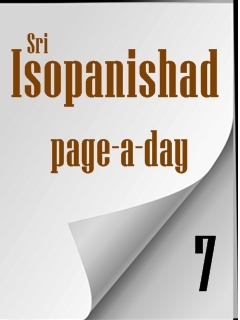 Continued from previous page… The cow, for instance, gives milk, but she does not drink that milk: she eats grass and straw, and her milk is designated as food for human beings. Such is the arrangement of the Lord. Thus we should be satisfied with those things He has kindly set aside for us, and we should always consider to whom those things we possess actually belong. Take, for example, our dwelling, which is made of earth, wood, stone, iron, cement and so many other material things. If we think in terms of Sri Isopanishad, we must know that we cannot produce any of these building materials ourselves. We can simply bring them together and transform them into different shapes by our labor. A laborer cannot claim to be a proprietor of a thing just because he has worked hard to manufacture it.
In modern society there is always a great quarrel between the laborers and the capitalists. This quarrel has taken an international shape, and the world is in danger. Men face one another in enmity and snarl just like cats and dogs. Sri Isopanishad cannot give advice to the cats and dogs, but it can deliver the message of Godhead to man through the bona fide acharyas (holy teachers). The human race should take the Vedic wisdom of Sri Isopanishad and not quarrel over material possessions. One must be satisfied with whatever privileges are given to him by the mercy of the Lord.
There can be no peace if the communists or capitalists or any other party claims proprietorship over the resources of nature, which are entirely the property of the Lord. The capitalists cannot curb the communists simply by political maneuvering, nor can the communists defeat the capitalists simply by fighting for stolen bread. If they do not recognize the proprietorship of the Supreme Personality of Godhead, all the property they claim to be their own is stolen. Consequently they will be liable to punishment by the laws of nature. Nuclear bombs are in the hands of both communists and capitalists, and if both do not recognize the proprietorship of the Supreme Lord, it is certain that these bombs will ultimately ruin both parties. Thus in order to save themselves and bring peace to the world, both parties must follow the instructions of Sri Isopanishad.
Human beings are not meant to quarrel like cats and dogs. They must be intelligent enough to realize the importance and aim of human life. The Vedic literature is meant for humanity and not for cats and dogs. Cats and dogs can kill other animals for food without incurring sin, but if a man kills an animal for the satisfaction of his uncontrolled taste buds, he is responsible for breaking the laws of nature. Consequently he must be punished.
The standard of life for human beings cannot be applied to animals. The tiger does not eat rice and wheat or drink cow's milk, because he has been given food in the shape of animal flesh. Among the many animals and birds, some are vegetarian and others are carnivorous, but none of them transgress the laws of nature, which have been ordained by the will of the Lord. Animals, birds, reptiles and other lower life forms strictly adhere to the laws of nature; therefore there is no question of sin for them, nor are the Vedic instructions meant for them. Human life alone is a life of responsibility.
It is wrong, however, to think that simply by becoming a vegetarian one can avoid transgressing the laws of nature. Vegetables also have life, and while it is nature's law that one living being is meant to feed on another, for human beings the point is to recognize the Supreme Lord. Thus one should not be proud of being a strict vegetarian. Animals do not have developed consciousness by which to recognize the Lord, but a human being is sufficiently intelligent to take lessons from the Vedic literature and thereby know how the laws of nature are working and derive profit out of such knowledge. If a man neglects the instructions of the Vedic literature, his life becomes very risky. A human being is therefore required to recognize the authority of the Supreme Lord and become His devotee.
(To continue read the next page…)
Source: Sri Isopanishad. Translation and purports by His Divine Grace A.C.Bhaktivedanta Swami Prabhupada. Copyright BBT International http://www.vedabase.com/en/iso