Seeing an unprecedented number of unscrupulous people going all out to exploit women's privacy, a few months back we posted a cautionary article in order to assist ladies safeguard their privacy. There are increasing number of reports exposing how, even so-called reputed companies and institutions have failed to protect women's privacy.
Hidden wireless cameras have become an obnoxious fun-tool for nefarious people, and an earning tool for the porn industry. They install such cameras in women's change rooms, washrooms, showers, bedrooms and places where ladies are likely to find privacy.
This time, such a spy cam, or hidden camera, has been found in a change room of a Cancer institute (see below).
Just because you are given a private place, there is no guarantee that it is private in a true sense. It is possible that you are still seen either on a computer or TV screen, a smart phone, or your movements are being recorded on an electronic storage device to be viewed and sold later.
Also, there are ways to see a person on the other side of something called a 2-way mirror. Today's men, with corrupt personal character, have forgotten that God has given them intelligence to invent and use science and technology for ethical purpose, not for committing crimes.
How to safeguard yourself? Here are a few tips as to where you can look for hidden cameras.
Take a careful look around you and ensure you are not seen by a hidden camera lens that may look like something else. Wireless spy cams can be installed in places that people hardly notice. For example, one of the two glowing eyes of a cute looking teddy bear could be a camera lens! An apparent LED on an electric or electronic device could be a hidden camera lens. Such cams can also be installed on a power outlet / socket, wireless router, table clock, wall clock, telephone cradle, mosquito repelling device, ceiling fan, in front of a mirror, and so on. There are criminals who install such cameras under wash basins, on shower heads and even on toilet accessories, like tissue holders, and flush tanks.
Considering the tiny size and mobility of such spy cameras, the possibilities to hide them are practically unlimited.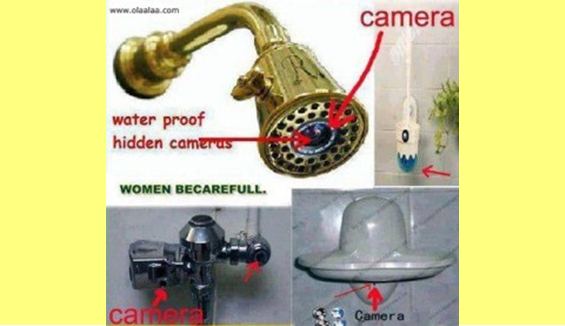 There are some simple tips available at WikiHow on how to find hidden cameras but that is not all. One needs to be alert and vigilant enough to thwart such criminal activities.
There is another trick that is used nowadays to intrude into women's privacy. It is called a 2-way mirror. These mirrors look like ordinary mirrors but are made in such a way that others can see you but you cannot see them. There have been many cases of people installing 2-way mirrors in female changing rooms or bathroom or bedrooms. It is not easy to identify the surface of the mirror but there are ways to detect it.
Follow these simple steps to detect 2-way mirrors:
Place the tip of your fingernail against the reflective surface.
If there is a distance or gap between your fingernail and the image of the nail, then it is a normal or genuine mirror. The reason there is a gap on a real mirror is, the silver foil is on the back of the mirror behind or under the glass.
If your fingernail directly touches the image of your nail, then hmmm… beware.. it is most likely a 2-way mirror. This means there may be someone seeing you from the other side. The reason there is no gap between the fingernail and its reflection is, with a 2-way mirror, the silver is on the surface itself.
Remember- when you use a change room, a washroom, visit a club or a mall, or even when you stay in a private and sophisticated hotel, there are possibilities that you are watched by hidden cameras or are exposed to others using 2-way mirrors that appear to be luxurious. Don't shy away if you suspect something.
In the worst case, you can easily cover such camera lens or mirrors by thick dark cloth or paper. The people who installed them will not want to come to ask you why you did so. It is always better to be safe than sorry.
Having known these things, we hope you will be able to help your sisters, mothers, daughters or friends protect themselves from lusty eyes. We recommend you read the previous article in this regard, published on Mayapur Voice, and share it with your dears and peers for their benefit.
Cancer institute orderly held for spy-cam in changingroom – Yahoo News India

A nurse spotted the spy camera in the changing room inside the intensive care unit (ICU) on the third floor and alerted a security guard, said sources. Police have reportedly recovered two obscene video clips from his spy camera, which was installed for around 12 hours, said sources. He said action was taken after the police received a complaint from the hospital administration.

Police have arrested a 30-year-old male orderly of Rajiv Gandhi Cancer Institute and Research Centre in Outer Delhi's Rohini on charges of filming women after allegedly putting up spy camera in changing room for nurses.

A nurse spotted the spy camera in the changing room inside the intensive care unit (ICU) on the third floor and alerted a security guard, said sources.

Police have reportedly recovered two obscene video clips from his spy camera, which was installed for around 12 hours, said sources. Police will now try to retrieve deleted data, added the sources. (Cancer institute orderly held for spy-cam in changingroom – Yahoo News India)