In a truly unique initiative to spread India's ancient wisdom across the world, this year the Indian government came up with an out of the box idea. According to the Minister of External Affairs, Sushma Swaraj, she took up the task when she heard from Prime Minister Narendra Modi his idea of unitedly singing Mahatma Gandhi's favorite song, vaishnava jana to tene kahiye, on Gandhi ji's 150th birth anniversary. The initiative witnessed a historic moment as representatives from 124 countries sang the song in a grand celebration. The world came to know it was Mahatma Gandhi's favorite song. The world, however, did not come to know much about the person who wrote the song– Narsinh Mehta, the glorious devotee of Lord Krishna who appeared in Gujarat, India in 14th Century.
Read every word of the song and the first thing that becomes evident is the level of spiritual realization Narsinh Mehta had. When people are busy promoting pseudo gurus, so-called saints, fake mystics and self proclaimed godmen, this song brings out the pure, lotus-like character of Narsinh Mehta in its fullest glory.
A saint is better recognized by his words. Narsinh Mehta wrote a good number of devotional songs, called bhajans, and all of them reflect his in-depth understanding of devotional service, or bhakti, to the Supreme Lord, Krishna. Narsinh Mehta na prabhatiya, Narsinh Mehta ni hundi, bhane Narsaio are some of the compilations of his beautifully composed insightful songs. Not only are they endearing to the heart, these songs make perfect philosophical sense and show his surrender to and personal loving relationship with God, or Krishna, who he often addresses in his songs as Narsaiyana Nath, meaning the master of Narsinh Mehta.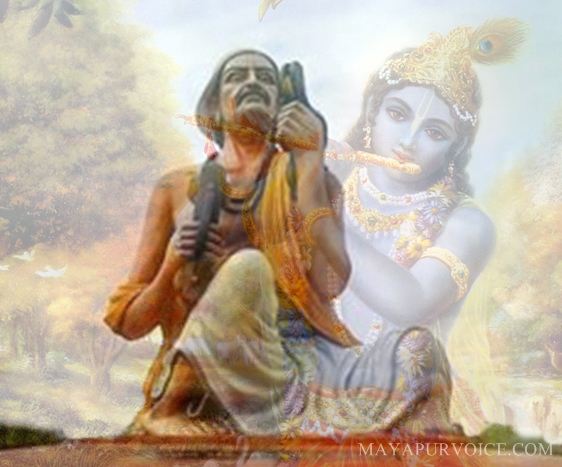 His famous write-ups include Sudama charitra, Ram lila, Jeevan Jarmar and many other wonderful texts. Volumes of essays and books are written and even movies are made on the life and devotional experiences of Narsinh Mehta. It wouldn't be an overstatement to say that fortunate are those who understand Gujarati language as all his songs are written in Gujarati. The vaishnava jana to tene kahiye song is just one of them and describes the qualities of a pure devotee of Lord Vishnu, or Lord Krishna, the source of innumerable Vishnu expansions.
Just as understanding Bhagavad Gita is more important than just singing it, knowing the meaning of this song is essential to realize the depth of Narsinh Mehta's spiritual as well as social wisdom. The following is vaishnava jana to song's transliteration in Hindi and English along with its Gujarati typeset.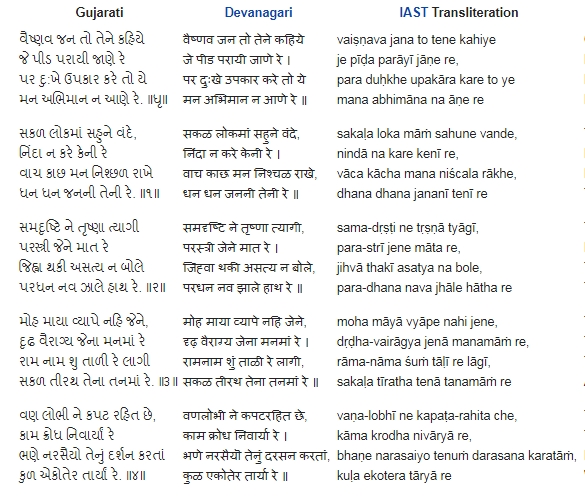 English meaning:
(Note: The word vaishnava refers to both male and female devotees. So replace the word he/him/his with she/her as applicable. What matters in this song is the qualities of a true vaishnava)
A vaishnava is he who feels the pain of others and helps those who are in misery, but who never lets false pride enter his mind.
He respects all, does not criticize anyone, and keeps his words, acts and thoughts pure. The mother of such a person is glorious.
He sees all equally, renounces material ambitions, respects other women as his mother and never speaks untruth. His hands never touch the wealth of others.
He does not succumb to worldly illusions, is firmly detached from the mundane and is attracted by the name of Lord Rama (God). All places of pilgrimage are embodied in him.
He is devoid of greed and deceit, and is free from lust and anger. Narsaiyo observes that just by meeting such a person one's forefathers for 71 generations are liberated.
The most significant part of the song is, although Narsinh bhagat himself was a vaishnava of the highest order possessing all the qualities mentioned in the song, and more, he writes as if he does not possess them. That is his genuine humility, which is different from mundane politeness.
"Humility manifested under binding circumstances could be external and temporary. A person may act humbly out of reverence, out of fear, out of shyness, out of greed, out of selfishness and so on. It may sound contradictory but one may behave humbly even out of pride. For example, one may make a show of being humble and earn respect from others for being so. However, all such shows of humility vanish when the underlying cause ceases to exist." –Genuine humility cannot be cultivated artificially – Here is why
This particular bhajan by Narsinh Mehta reminds of Lord Chaitanya's sikshastakam wherein the Lord has described in nutshell the process of topmost devotional service in eight short verses. Verse numbers 3 and 4 talk about the qualities of a pure vaishnava who is able to chant the holy names of the Lord constantly. These qualities are similar to what Narsinh Mehta says in this song. Interestingly, Narsinh Mehta appeared around the same time Lord Chaitanya descended on this planet.
Apart from the vaishnava jana to song, Narsinh Mehta's other songs are evident of his deep attachment to Lord Krishna and how he felt intense separation from his beloved Lord. One particular song he jaga ne jadava krishna govlia is one such song wherein his transcendental lamentation for not having Krishna around is feelingly visible. Such songs cannot be composed by any amount of mundane skill.
Revered as the adi kavi, Narsinh Mehta is dear to one and all, especially in Gujarat, who love Krishna bhajans. His bhajans and other write-ups, totaling around 1500 or more, are not just philosophical wisdom or religious fantasy; they are based on his real life experiences. This is the reasons hearing or singing them gives immense inner peace and out of the world satisfaction. Appearances of such pure devotees are rare and those who live with them as contemporaries are undoubtedly some of the most fortunate souls in the universe. Hare Krishna.