Amidst chanting, dancing and happily crying thousands of devotees, His Holiness Jayapataka Swami, the seniormost sannyasi and guru in ISKCON (founder-acharya His Divine Grace A.C. Bhaktivedanta Swami Prabhupada), returned to Sri Mayapur yesterday after a stunningly successful multiple organ surgery in Chennai last year. On doctors' advice he spent six additional months there post surgery to get fully recuperated making it the longest period he ever spent outside of Sridham Mayapur, his spiritual home and headquarters. After waiting for more than half a year in the queue for getting suitable organs, His Holiness had a simultaneous liver and kidney transplant on 15th August 2018. The operation was diligently carried out by Dr Mohammad Rela.
In his arrival address Srila Jayapataka Swami thanked everyone for their prayers and sincere services. "All of you have been praying for me, all over the world they prayed for me, some people had dreams of Nrsimha Dev, so somehow, by the mercy of Krishna and all the Deities and prayers of the devotees, I am still here!", he said to a cheering crowd who had been waiting to see him and hear directly from him for almost a year.  He said he was very happy to come back to Sridham Mayapur and narrated one of Lord Chaitanya's pastimes performed here.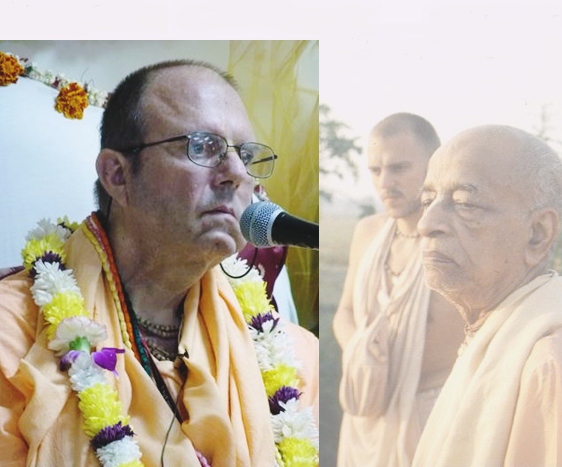 With nearly 50,000 diksha disciples and thousands of siksha disciples from around the world, Srila Jayapataka Swami has a massive popularity, not only in ISKCON and other Gaudiya organizations, but also in the other Vaishnava sects, like the Shri Vaishnavas and the Madhvas. At number of occasions prominent acharyas of reputed Indian temples have showered praise on him for his service to the Sanatana dharma. In the past he has also been the vice president of the World Hindu Federation.
Local management had made extensive security arrangements and large pandal for receiving His Holiness. Our joy has no bounds seeing him back. Apart from thousands of resident devotees, due to festival season thousands of guest devotees are expected to arrive here soon. People have been advised to maintain physical distance from Srila Jayapataka Swami as due to immunosuppressant drugs his immunity level is fragile and body is vulnerable to infections.
His Holiness Jayapataka Swami, reverentially called as Guru maharaj by his disciples, is expected to spend some time here before continuing with his ever energetic and ever inspiring traveling and preaching programs.  Our sincere prayers for his improved health. Hare Krishna.