Just like Lord Krishna's appearance day is known as Krishna Janmastami, the appearance day of Lord Balaram, who is the elder brother of Krishna, is known as Balarama purnima, or Balarama jayanti. Lord Balarama (or Balaram) is the first bodily expansion of the Supreme Personality of Godhead, Lord Krishna, but He plays the role of His elder brother. By Lord Balaram's mercy one can receive the mercy of Lord Krishna. Lord Balaram appeared as the son of Rohini and Vasudeva during Dvapara yuga. According to Vedic calendar, Balarama punima is the fifteenth day of Shravan month.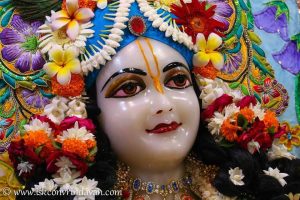 Balaram purnima is celebrated especially in the Dauji temple in Vrindavan, where Sri Balarama and Srimati Revati (the consort of Balarama) reside in Their nitya-lila, or eternal pastimes. The same festival is also celebrated in many other temples around India,  and especially after the inception of ISKCON in 1969, Sri Balarama jayanti has become one of the main Vaishnava festivals all over the world.
The day before Balarama purnima, an adhivasa ceremony is performed in the evening to invoke auspiciousness for the next day celebration. On the day of Balarama purnima, devotees fast till noon and engage in hearing and chanting of the transcendental names and glories of Lord Balaram. Just like Lord Krishna is happy when His name is connected to His devotees names, like Radha Govind, Yashoda Dulal, Nanda Nandan, Gopijana Vallabh and so, His devotees are also very happy when they are known by their relationship with Krishna. This is why devotees chant Dauji ka bhaiya Krishna kanhaiya for the pleasure of Lord Balaram.
In the evening, devotees play Lord Balarama's pastime of breaking a honey pot. They go blindfolded with a stick in hand and try to break the pot hanging high. After many attempt when the pot finally breaks, devotees relish the honey and maha-prasada. Some devotee also make some varuni-like drink and distribute in a very minute quantity to all participants as maha prasad.
Balarama purnima is also the day when Sri Sri Radha-Krishna's 5-day Jhulan yatra, or swing festival ends for the year. This is why this day is also known as Jhulan Purnima. In many parts of India, people celebrate this day as Raksha bandhan when sisters tie Rakhi and wish all protection to brothers. There is a historical significance to this. This day also marks the last day of the first month of chatur-mas.
Lord Balarama came as Nityananda Prabhu when Lord Chaitanya Mahaprabhu, who is non-different from Lord Krishna, appeared. Lord Chaitanya offered Vyas puja to Nityananda Prabhu because He, being non-different from Lord Balaram is the original guru.
Balarama purnima ki Jay! Sri Sri Krishna Balaram ki jay!