Using Social media is not bad but becoming dependent on them certainly is, especially when you never know what goes on in the background. After Cambridge Analytica and Facebook, now it is Twitter in the news.
According Reuters, the "company advised users to take precautions to ensure that their accounts are safe, including changing passwords and enabling Twitter's two-factor authentication service to help prevent accounts from being hijacked."
While disclosing the issue in a blog post and series of Tweets, Twitter said it had resolved the problem and an internal investigation had found no indication passwords were stolen or misused by insiders. "We are very sorry this happened," the Twitter blog said.
Not by insiders but what about outsiders? Users need to read between the lines when such statements are made.
"We fixed the bug and have no indication of a breach or misuse by anyone," Chief Executive Jack Dorsey said in a Tweet. "As a precaution, consider changing your password on all services where you've used this password", the company clarified.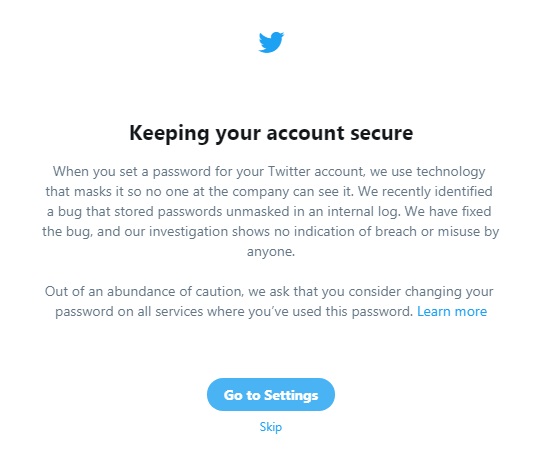 Although the company did not disclose the number of affected user accounts, a person familiar with the company's response said the number was "substantial" and that they were exposed for "several months", reported Reuters, adding the "disclosure comes as lawmakers and regulators around the world scrutinize the way that companies store and secure consumer data, after a string of security incidents at Equifax Inc, Facebook Inc and Uber Technologies Inc [UBER.UL]."
Will you change your Twitter password? No harm. Better do it. Why take the risk when the suggestion (read cautionary advice) comes from the company itself? Remember, once you do it, the apps you may have authorized Twitter access will not work until you enter the new password. Take care.