It does not need any explanation as to why, from the day he got elected as the Prime Minister of India, and to a good extent even prior to that, Narendra Modi has been a prime target for the extremists. His brief visit to Pakistan has just concluded and it's a relief to many India lovers that no untoward incident took place while he was on Pakistan soil, and Navaz Sarif and Pakistan army deserve a big and sincere applause for this. It also shows that the government of Pakistan is still in a considerable control of the situation.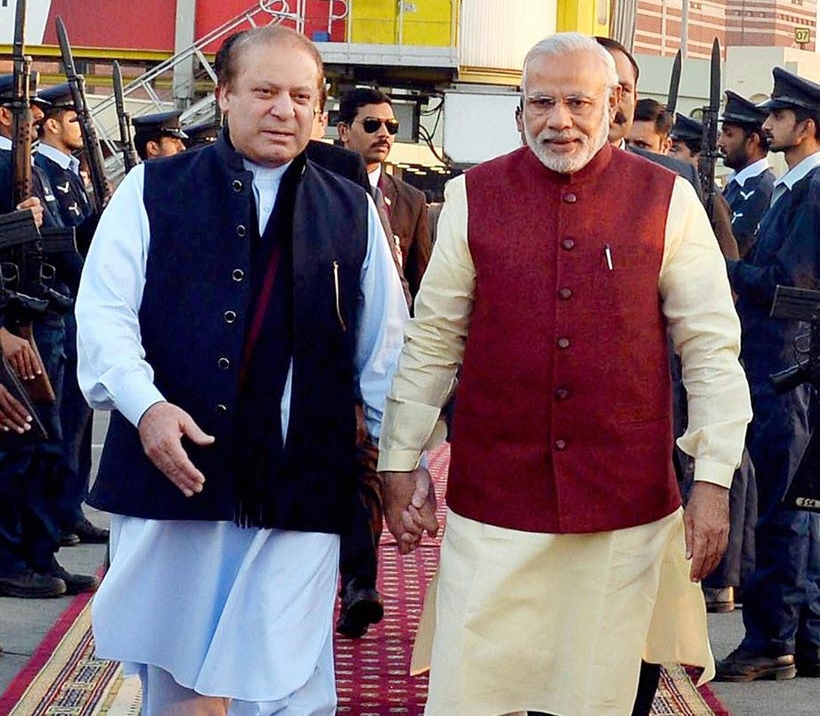 It is said that real courage is developed due to one's inner, spiritual strength. This inner strength can be cultivated by following higher principles of life. Modi is known for following traditional Indian lifestyle in that he practices yoga, believes in his religion, and is even able to talk about it to others. For example, he gifted Bhagavad Gita to a few international leaders from different faith groups. The point being made is, his courage and personal integrity have their root in practicing religious principles.
Political leaders from all over the world have hailed Mr Modi for making a landing in Pakistan and meeting Mr Sarif at his residence and wishing for his birthday. If there is any leader, especially in India, who sees wrongs in what Mr Modi did, then he or she should stay home introspect.
Being members or supporters of a particular political party is one thing but when it comes to national pride no citizen should shy away from showering praise whenever an opportunity arrives. So far Modi's statesmanship, it is official now that India's national pride is high and Narendra Modi has, without any doubt, played a laudable role in achieving it.
Modi's Pakistan visit makes headlines across the world
The tense relations between India and Pakistan, both nuclear-armed nations, have long worried American policy makers, who fear that proxy wars between the two countries could flare into a real one. Mr. Modi is also highlighting India's role in …CNNWall Street JournalPress Herald – Narendra Modi of India Meets Pakistani Premier in Surprise Visit – New York Times
New Delhi: The Foreign Secretaries of India and Pakistan will meet on January 15 in Islamabad. Though there was no official announcement to this effect, sources said that Foreign Secretary S Jaishankar will travel to Islamabad to hold talks with his … After surprise Modi, Sharif meet, Foreign Secretaries of India and Pakistan to … – IBNLive
ISLAMABAD
(Dunya News/ AFP) – Chairman Pakistan Tehreek-e-Insaf (PTI) Imran Khan said on Friday that he welcomes the decision of Indian Prime Minister (PM) Modi's visit to Pakistan. PTI chief also said that during his visit to India, he invited PM Modi …Daily Pakistan Imran Khan welcomes Modi's Pakistan visit – DunyaNews Pakistan
Al: Pakistani Prime Minister Nawaz Sharif, right, and Indian Prime Minister Narendra Modi shake hands during the 18th summit of the South Asian Association for Regional Cooperation (SAARC) in Katmandu, Nepal, Thursday, Nov. 27, 2014. (File photo: AP) … Indian PM Modi lands in Pakistan on surprise visit to meet PM – Al-Arabiya
NEW DELHI: Indian Prime Minister Narendra Modi said he would pay his first visit to Pakistan Friday and meet his counterpart Nawaz Sharif in Lahore. "Looking forward to meeting PM Nawaz Sharif in Lahore today afternoon, where I will drop by on my way … Modi announces surprise visit to Pakistan – gulfnews.com
Prime Minister Narendra Modi will be making a quick stopover in Lahore to wish his Pakistani counterpart Nawaz Sharif on the occasion of the latter's birthday. During his two-hour stopover, Modi is scheduled to visit Nawaz Sharif's Jati Umra residence …Geo News, PakistanPakistan Today Modi's Christmas surprise: A quick stopover in Lahore to wish Happy Birthday … – India Today