As modern scientists continue to be amazed at the increasing mysteries of the universe, Australian researchers have added to it by capturing video clips of a completely new beautiful world, right on the Earth, beneath the ice of Antarctica, on the ocean floor. What left them even more surprised was the fact that the multicolored underwater ecosystem was found by accident.
Video credit: http://www.businessinsider.com.au
""Australian Antarctic Division (AAD) biologist Dr Glenn Johnstone said the research team was retrieving a data recorder from waters near the Casey Research Station and sent down a camera with lights to record the mission. When both devices resurfaced he saw the camera had recorded a lush seabed field of urchins, starfish, worms, algae and sponges. "All of the colour in Antarctica, all of the diversity, is actually on the sea floor," Dr Johnstone said. "When you're up above there's very little colour. There's whites and blues and greys. All the animals are black and white, and as cute as they are, the real diversity and the real health of the environment is down on the sea floor."
Dr Johnstone said the ecosystem's location — under a 1.5-metre ice sheet the researchers drilled through and at a 30-metre depth in a bay about five kilometres from Casey — was ideal for it to flourish. "It's an area that we have been working very close to for a long time, but we've never actually dived or put any cameras down," he said. "It was a great surprise to find such a beautiful, vibrant environment.""  (Source http://www.abc.net.au/news/2016-12-21/antarctic-seabed-alive-with-colour-scientists-discover/8138234)
While this may sound fantastic to us, India's Vedic text has spoken about such and much more astonishing habitation zones throughout not only Earth but the universe. As explained in this article, there are descriptions of planets with oceans containing salt water, sugarcane juice, liquor, clarified butter, milk, emulsified yogurt, and sweet drinking water. On our planet, Earth, we have experience of only salt water ocean but on other planets there are more varieties.
Not only Antarctica and beneath the ocean, we have no full knowledge of even what is right in front of our eyes. There are known mysteries on the earth that human beings today are perplexed by and some have labeled them as conspiracy theories. What has happened though, over centuries, is that many such so-called conspiracy theories have turned out to be facts.
Be it the ice of Antarctica or the two largest deserts on Earth in the polar areas, there is no conclusive explanation of what they are and how they came into existence. The Antarctic Polar Desert covers the continent of Antarctica and said to be of a size of about 5.5 million square miles. Then we got the second-largest desert, the Arctic Polar Desert. We also have the great Himalaya and rivers Ganga, Yamuna and the mystical Sarasvati mysteries and histories of whom are far more mind-boggling.
"There is a predominating deity for all the material elements, and Varuna, or Pracheta, is the predominating deity of the seas and the oceans. From outward appearances the seas and oceans are devoid of life, but a person acquainted with the sea knows that within the water exist many varieties of life. The king of that underwater kingdom is Varuna. Just as no one can understand what is going on beneath the sea, no one could understand what policy King Prithu was following to make everything successful. Indeed, King Prithu's path of diplomacy was very grave. His success was made possible because he was a reservoir of unlimited glorified qualities." (S.B. 4.16.10)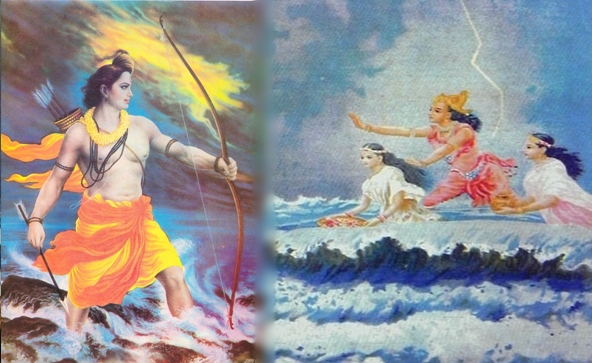 This is just an example which shows how righteous and knowledgeable the kings were during the Vedic era.
We read from Ramayana how Lord Rama, after seeing the ocean god not accepting His request to give Him and His associates, including His formidable army comprised of monkeys, a suitable path for crossing the waters, lifted His invincible bow and warned the ocean god of the consequences of his non-compliance. It was then when the personified ocean came running and surrendered to Lord Rama.
We also read in Mahabharat how Bhima, the elder brother of Arjuna, was thrown in a river but was taken care of by the residence of Naga-loka. Hanuman meeting a female sea demon is another example.
This type of incidents may sound like imaginations or mythological stories to a person who has not studied and heard Vedic scriptures from bona fide sources, but in reality they are factual historical events.
Now they have found this world under the ice of Antarctica. Tomorrow they may find something under the polar deserts, or find images of another beautiful world under the surface of mighty Himalaya. Modern scientists are already astonished by seeing the verities of planets and realizing there must be civilizations on other planets. While such existence certainly surprises us, if we look at the world through the eyes of scriptures, especially the Vedic scriptures for having a massive treasure of information, it will help us live in harmony with the world that is yet to be known by most of us on Earth.