After month of preparations, yesterday Lord Jagannath Rath-yatra was celebrated with grandeur in the ancient city of Odissa, popularly known as Jagannath Puri. Along with Puri, many other cities and towns in India also celebrated this festival, and so did Sri Mayapur. Although ISKCON's main Rath-yatra festival is organized in Kolkata, where it was originally started by ISKCON Founder-Acharya His Divine Grace A.C. Bhaktivedanta Swami Srila Prabhupada, later on Sri Mayapur also began to organize it.
Starting at 2:45pm from the Rajapur Jagannath Mandir, the procession reached ISKCON Mayapur at 7:45pm. The procession was headed by ISKCON's two beautifully decorated auspicious elephants Laxmipriya and Vishnupriya, who also enjoy the privilege to carry Their Lordships Sri Sri Radha Madhava during Their winter processions. Followed by them were local school children performing dances, and floats depicting pastimes of the Lord. The three chariots of Sri Baladev, Srimati Subhadra Devi and Sri Jagannathdev, respectively being pulled by hundreds and thousands of people, accompanied by three kirtan groups dressed in blue and yellow dhotis, reminding the 'pandas' of Puri, and the symphony of gongs, bells and mrdangas, a clear attempt to resemble that of Puri, were surely pleasing the Lord of the universe, Lord Jagananth.
Elaborate arrangements were made for medical and security aid with the assistance from the local police station. Constant water supplying cars and booths on both sides of the road served to the satisfaction of all the devotees. Special guests included a number of Bengali film stars, two West Bengal state ministers, and leaders from all three main political parties. Sriman Bhakti Svarup Das, who heads ISKCON Mayapur's security department, mentioned that more than one hundred fifty police and eighty ISKCON security guards were on constant duty throughout the procession. A management source reported that more than 120,000 people attended the festival. Mayapur is currently having a residency of about two and a half thousand just ISKCON devotees.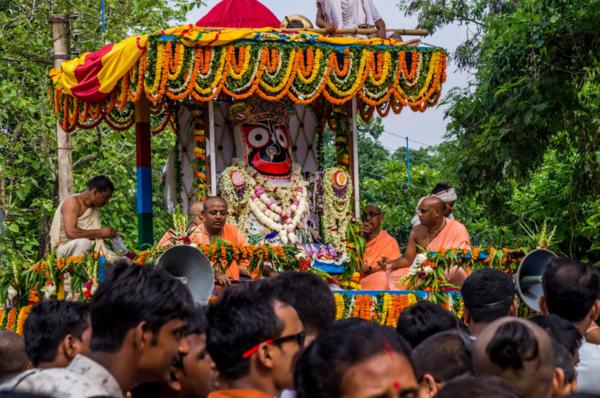 It is a common saying that the best worship of Lord Jagannath is done by honoring His maha-prasadam. Following this saying, there was a constant flow of prasadam. Hindus and Muslims, locals and pilgrims, devotees and guests, were all enjoying their catch of prasadam packets that were being thrown at them from the chariots. Free Prasad distribution booths were also seen on the roadside. The chariots stopped every few yards to accept the bhoga, fruits and tasty vegetarian cuisine, incenses and garlands lovingly offered by the householders, shopkeepers, and roadside temples that fill up the entire length of the Srila Bhaktisiddhanta Saraswati Marg. The journey of five kms was covered in about five hours leaving everyone in bliss.
On arrival, Their Lordships were established in the newly made temporary structure of Gundicha Mandir. Their Lordships will reside in this temple for the next seven days before returning on the Ulta Rath-yatra. A special temporary kitchen has been constructed behind the temple to cook fifty six types of items everyday (popularly known as the chappan bhoga). Every evening there will be special arati and kirtan program where the Jagannath astakam will be sung while devotees get to offer ghee lamps to Their Lordships.
Every year the Rath-yatra program in Sri Mayapur is expanding and devotees hope that in the future it will become one of the main attractions for people who are not able to travel all the way to Puri to come and have an easy access to the causeless mercy of Lord Jagannath in the land of bountiful mercy – Sri Mayapur dham.