In a lengthy yet pleasant statement, the Rajasthan High Court has strongly recommended that the cow be honored as India's national animal. The retiring judge also said that cow slaughter should be made punishable by life term.
The court was responding to a Public Interest Litigation (PIL) filed by an organisation which sought steps for the protection of cows.
Citing various scientific research papers, justice Mahesh Chandra Sharma showered praise on the cows. He also quoted Sanskrit verses from the Vedas to support the statement.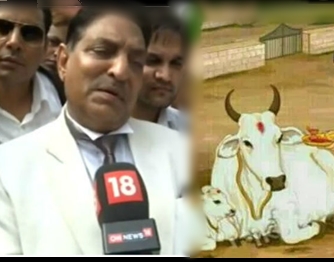 It is a matter or pride for India when a High Court judge quotes Vedic verses for the right cause. Sure there are people who would like to criticize him for this and call it secular, but isn't Indian constitution based originally on Manu smruti? The fact is, India, at its core, is Vedic civilization and today or tomorrow Vedic principles will again take edge over modern, Kaliyuga lifestyle. After all, Vedas show the most practical way of living not only prosperous but also peaceful life. Unfortunately, intimidated by western propaganda, Indians are unnecessarily shying away from their own culture and abandoning Vedic wisdom. In recent times though, thanks to ISKCON and several other organizations,  a new wave of spirituality has entered the minds young Indians. This offers great hopes.
"Amid protests in several non BJP-ruled states over the Centre's recent ban on sale of cattle for slaughtering, the Rajasthan High Court on Wednesday suggested to make cow as the national animal of India. The Rajasthan High Court also called for…" Declare cow as national animal, make slaughter punishable by life term: Rajasthan High Court – Zee News
"The Rajasthan High Court on Wednesday recommended the state government to make cow a "legal entity" and get it declared as National Animal by representing the case before the centre. Court has also asked the state government to increase the punishment…" Rajasthan HC recommends Cow to be declared as National Animal
However, we believe that acknowledging the value of cows' motherly contribution to the world, she should be officially declared Rastra-mata, the mother of the nation, if not mother of mankind, instead of calling her merely the national animal. Cow is not actually an animal. Those who know her wonderfully unique qualities know that she is a gift of God to this world.
In a surprise statement, justice Sharma also said that the peacock is made national bird because peacocks don't indulge in sex life. This has taken social media by storm and critics are busy discrediting such controversial statement. But instead of highlighting such gossips, it would be wise of them to focus on and appreciate what he said about the case, which is about the protection of cows.