As the rain god continues to flood Assam, almost two million people from 23 districts are affected with death toll reported 26.  Floods are not new to Assam but apart from what we perceive around and what the modern science reasons for Assam's monsoon behavior, there are more compelling reasons why states, regardless of which state, get flooded.
According to Vedic science, in worldly terms, the increasing number of floods, droughts and earthquakes points at human beings not paying taxes to demigods, who are the appointed managers of the Supreme Lord to take care of supplying life essentials like rain, air, light and so on. This taxes are paid by performing yagya, or yagna (fire sacrifice) along with chanting of Vedic mantras.
It is important to note here that modern science also uses combination of fire (electricity or solar power), computer codes, and voice commands (compared to mantra vibrations and prayers) to communicate wirelessly with distant satellites in the outer space, but under the influence of atheism, they have difficulty accepting Vedic explanations of natural phenomena. Today's mainstream scientists do not have any clue about this higher science but the result of ignoring it is evidenced by increasing number of natural calamities.
There is nothing automatic in this world. We all know that the government of a country has its managerial structure and laws. Similarly one should understand that there also are laws and managers of universal affairs. (Source)
Bhagavad Gita clearly explains how natural resources are supplied on this planet:
Bg 3.10 — In the beginning of creation, the Lord of all creatures sent forth generations of men and demigods, along with sacrifices for Viṣhṇu, and blessed them by saying, "Be thou happy by this yajña [sacrifice] because its performance will bestow upon you everything desirable for living happily and achieving liberation."
Bg 3.11 — The demigods, being pleased by sacrifices, will also please you, and thus, by cooperation between men and demigods, prosperity will reign for all.
Bg 3.12 — In charge of the various necessities of life, the demigods, being satisfied by the performance of yajña [sacrifice], will supply all necessities to you. But he who enjoys such gifts without offering them to the demigods in return is certainly a thief.
Despite this clear guidelines, people are being misled by atheistic philosophies and the worst part is, even Indians have lost their wisdom.
One may argue that there are many states in the world which don't perform such sacrifices  but don't get flooded. We have to understand that natural calamities come in different forms. It could be floods, droughts, cyclones, earthquakes, pestilence, famine, and so on. For example, the number of hospitals and thriving medical industry in the western countries show their increasing health issues. War and mass killings are another forms of combined reactions from sinful acts.
While it is natural to feel sympathetic towards those affected by the flood and we extend prayers for their well being, the point being made is, it is never too late when it comes to accepting the authority of the almighty God. Abandoning sinful activities like meat eating, gambling, intoxication and illicit sex will help humanity gradually become peaceful as the reactions of already committed sinful acts diminish and results of pious deeds fructify. In this age the prescribed sacrifice is sankirtan yagya, or the congregational chanting of the holy Names of God.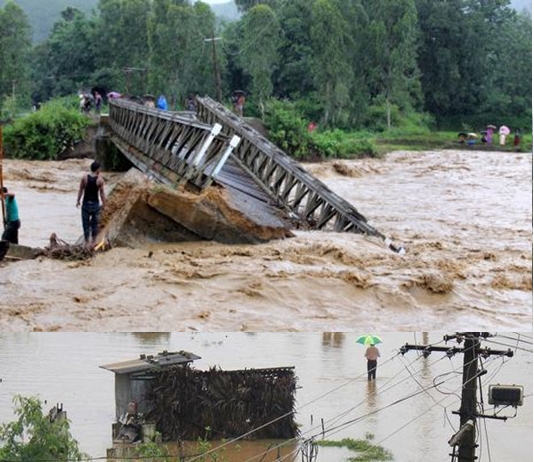 Assam flood: At least 26 killed, over 18 lakh affected in 23 districts; nine rhinos drown in Kaziranga – Daily News & Analysis
For the second time this month, heavy to very heavy rains have triggered massive floods in Assam, killing at least 26 people till Saturday and affecting more than 18 lakh people in 23 districts of the state. Union home minister Rajnath Singh visited …Scroll.inHindustan Times Assam flood: At least 26 killed, over 18 lakh affected in 23 districts; nine rhinos drown in Kaziranga – Daily News & Analysis
Assam flood 2016: Heavy rain affects Kaziranga national park, 19 lakh people; death toll rises to 25 – Financial Express
Assam flood 2016: As per reports, the administration has rescued all affected families as surging water breached Bongaon embankment at Majuli River Island in Jorhat. All the rescued people have been provided shelter in embankments.(Image: Associated … Assam flood 2016: Heavy rain affects Kaziranga national park, 19 lakh people; death toll rises to 25 – Financial Express