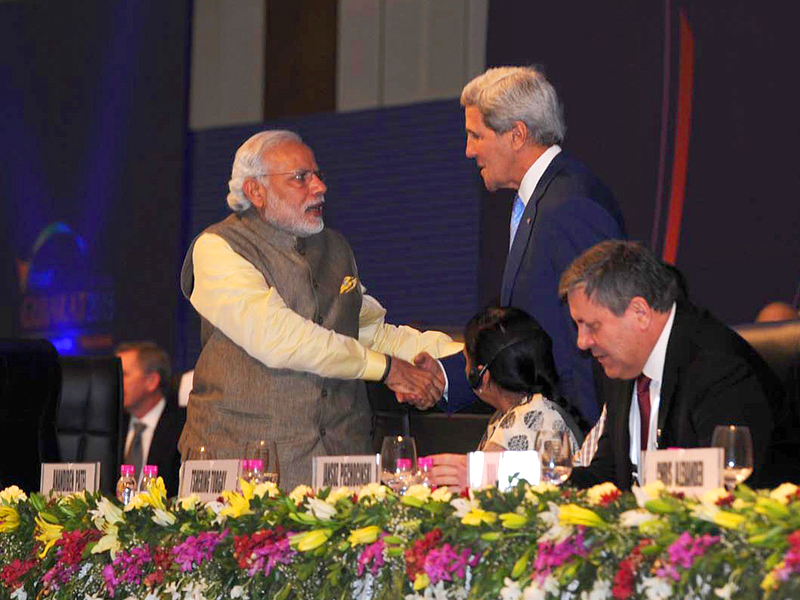 Vibrant Gujarat summit, being held since 2003, is the brainchild of Team Narendra Modi when he was the Chief Minister of Gujarat, has become the buzzword this week, not only in India but around the world.
Starting from top Industrialists to politicians to world leaders, including the US secretary of state, John Kerry, has already arrived.
No one can deny that, apart from the opportunity to earn and show off, it is Madi who is the key factor behind this.
Modi, who assumed office as PM in May last year, said, "The ease of doing business in India is a prime concern for you and for us. I assure you that we are working very seriously on these issues. We want to make them not only easier than earlier, not only easier than the rest, but the easiest."

Assuring investors the government would "hold your hands whenever needed," he said, "If you walk one step, we will walk two steps for you."

"We are here as a family not only in terms of space but also because someone's dreams depend on someone's direction; someone's success depends on someone's support' and someone's curiosity depends on someone's care. This is what a family does.

The PM said the world was displaying tremendous interest in India and this was a source of great strength. "Countries are coming forward to work with us."

On US President Barack Obama heading for India, Kerry said, "Barack Obama is very excited. He will be the first US President at Republic Day celebrations."  Source: Vibrant Gujarat Summit: If you walk one step, we will walk two, Modi tells industry – Hindustan Times