Did you register what the headline says? That's just a glimpse of the power of nature. Wildfire is not new to California just as floods are to Bangladesh and earthquakes to Japan. We also keep hearing of hurricanes and cyclones threatening American countries.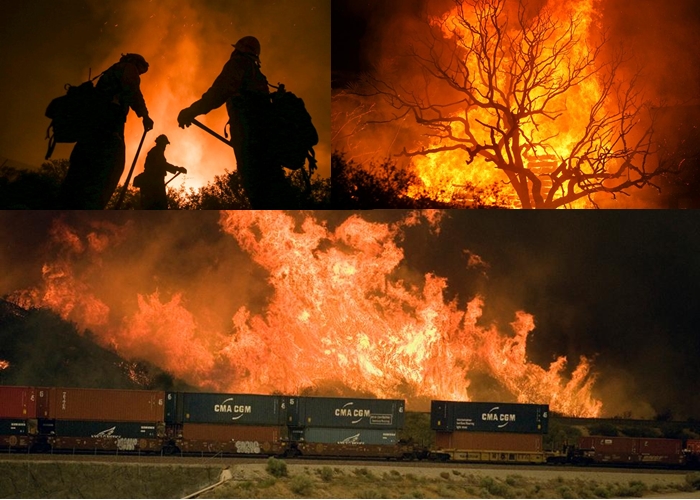 California Wildfires Destroy Homes, Forcing Thousands to Flee (PHOTOS) | The Weather Channel – The Weather Channel
San Bernardino County Firefighter/Engineer/Paramedic Jeremy Pendergraft helps a couple evacuate out of their home as she cries off of Hess Rd. as a wildfire off of Hwy 138 quickly approaches in San Bernardino, Calif., Tuesday Aug. 16, 2016. Eric … California Wildfires Destroy Homes, Forcing Thousands to Flee (PHOTOS) | The Weather Channel – The Weather Channel
According to CNN, "less than 10 hours after igniting, a Southern California wildfire, burning uncontrollably, has engulfed 15,000 acres. The size of the fire is roughly 23 square miles, which is about half the size of San Francisco".
California wildfire forces thousands of evacuations – CNN
Some 82,000 residents in San Bernardino County, California, are under a mandatory evacuation order because of a fast-growing wildfire, a Cal Fire spokesman said. The blaze started about 10:30 a.m. Tuesday and by evening had spread to 9,000 …California wildfire forces thousands of evacuations – CNN
Imagine if a tiny portion of this American land was burnt by a Russian missile! There would have been counter attacks and massive destruction, if not nuclear war. The point being made is humans have no power, whatsoever, to fight with nature. When the nature gets furious all that we can do is defend and in situations like this even the best defense efforts also fail. Only the controller of nature can help. One can imagine how the fire authorities may be praying or hoping to have some rain in the area. And yet there are active propaganda in the name of scientific advancement promoting godlessness. That is called lack of intelligence and misfortune.
As explained in this article we need to understand the power of God under whose direction the material nature operates. What we are seeing today – raging wildfires, devastating floods, devouring earthquakes and deadly hurricanes are all perfectly controlled by the material nature and the reason behind it is the sinful actions on the planet committed by us, the human beings.
Take a quick look.
The Earth has been tortured to the core. Environment has been messed around for decades. Agriculture is industrialized, rivers are blocked by monstrous dams, oceans are drilled for oil and minerals, rain clouds are throttled by pollution and poisonous gases, digging the Earth deeper for metal and coal resources has become a subject matter of auctions, forests are invaded by human population and wild animals are struggling to survive.

What more? Trees and domestic animals are slaughtered indiscriminately, women are both encouraged and forced to shed their cloths, modesty is rapidly vanishing, chastity is considered outdated, and gay marriages are becoming part of lifestyle. Human trafficking, selling of body parts, thriving medical industry at the cost of lives, and criminal negligence of the basic rights of innocent creatures like cows and bulls, birds and reptiles has gone rampant. The list of sins committed on the planet sees no end…http://mayapurvoice.com/…earthquakes-steroids…/
We sincerely pray that the affected areas get some help from Lord Indra and Agni deva, the persons respectively in charge of rain and fire supply on the Earth and other planets. I purposely mention this because, being empowered by Lord Vishnu, they in fact manage these affairs although this may not make sense to those who have not studied Vedic science and the managerial structure of this universe.
Our sympathy goes to the wild animals, birds, reptiles, insects and other creatures in the forest as well as the suffering human beings who are unfortunately misguided by false religious and atheistic propaganda which encourages them to commit sins without understanding the consequences.